Advanced Mfg Tech

HOPFAME Accepting Applications for Fall 2022 Semester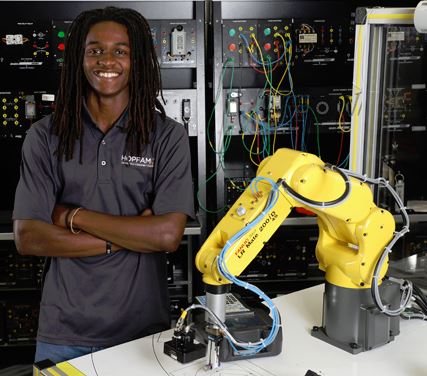 HCC is accepting applications for the HOPFAME Industrial Maintenance Technology - Advanced Manufacturing Technician Track. Use the link below to submit your application before April 1, 2022.
HOPFAME is the HCC chapter of KYFAME, a partnership of regional manufacturers whose purpose is to implement apprentice-style training to create a pipeline of highly-skilled workers. The concept offers a five-semester college degree program that matches higher education with continuous real-world experience.
Work and learn in advanced manufacturing!
While HOPFAME is ideal for recent high school graduates, current manufacturing employees, and military veterans, it is open to anyone who meets the eligibility requirements listed below and wants to pursue high-paying, diverse career options in advanced manufacturing. As a program participant, you will earn a competitive salary while attending college and potentially graduate debt free! Attend class full time two days a week and apply what you learn in class at work with your sponsoring manufacturer three days each week.
HOPFAME offers more than college classes. Your coursework will include not only essential hands-on technical training but also instruction in lean manufacturing principles and critical workplace behaviors. You'll graduate with 18 months of work experience, extensive knowledge in electricity, fluid power, mechanics, fabrication and robotics, as well as the personal skills that help you become a stand out employee.
A great career pathway at potentially zero cost to you!
HOPFAME industry partners sponsor students in the program resulting in paid work experience which includes hands-on application of class concepts and the chance to observe the best practices of a world-class manufacturer.
Salary and benefits are determined by the individual manufacturer and shared with the student during the selection process. Pay increases are based on work performance evaluation and academic performance. HOPFAME students may be eligible for Rotary Scholars and Work Ready Kentucky scholarships, KEES scholarship funding, and federal financial aid.
HOPFAME program participants must ...
Be 18 years old as of the first day of class
Be a US citizen
Demonstrate academic success as measured through grades and assessments
Demonstrate math capabilities as measured through ACT scores of assessment tests
Submit a written essay
Commit to remaining absolutely drug free
To be considered for the program, candidates must complete the HOPFAME application form. Candidates must also complete the HCC admissions application and submit the required documents. Only applicants who meet the eligibility requirements and submit the required documentation will be considered by employer sponsors.
Please see the HOPFAME flyer for a sample schedule and more details (pdf).
Complete the HOPFAME Application
PLEASE NOTE: If you have submitted a HOPFAME application but have not received a confirmation email from Mary-Rachel Leach, please contact her using the information below or contact our staff at hp-HOPFAME@kctcs.edu. Thank you!
Questions? Contact us!
Mary-Rachel Leach, HOPFAME Success Coach
Office: Hopkinsville Campus, Technology, Room 124E
Phone: (270) 707-3738
Email: Mary-Rachel Leach