HCC Student Overcomes Odds and Discovers a Passion for Helping Others
Published on May 8, 2023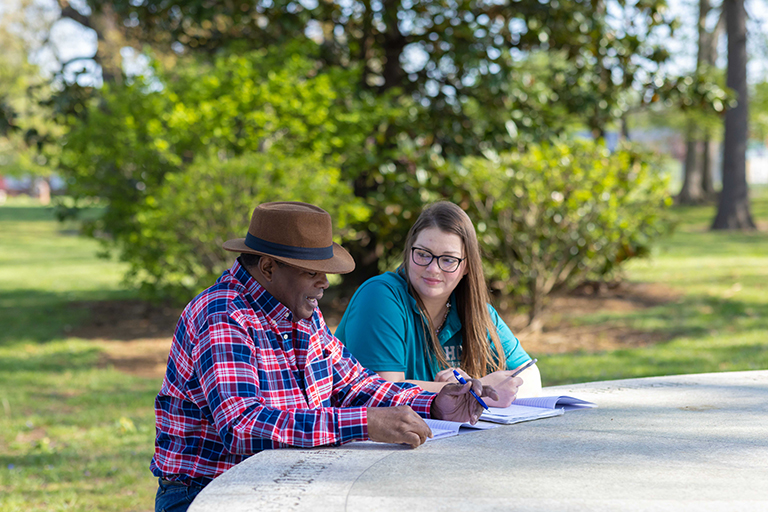 Hopkinsville Community College (HCC) student 36-year-old Brittanie Bogard is well-known around the campus as well as an active member of the community the city of Hopkinsville. Her story is one that illustrates the power of determination, education, triumph, finding oneself and discovering a passion along the way.
Brittanie is considered a non-traditional student to those working in higher education, which refers to the fact that she didn't start college immediately after high school. However, this is increasingly common student population in community colleges across the nation.
She was born in Louisiana and moved to Hopkinsville when she was still in elementary school. Brittanie became familiar with Hopkinsville Community College while utilizing the free adult education GED® testing study program housed on the college's campus. She earned a GED in 2007 and gives adult education staff member Margaret Galloway credit for her persistence and personal help to ensure Brittanie was successful. Next, she enrolled at HCC as a college student, but stopped out shortly after due to not being ready at that time.
Brittanie describes her youth as rough, spending time in group homes and detention centers. "I was caught in a cycle and continued that same path into adulthood," she explained. Around 2012-13 she went to prison for three years. Afterwards she went to work in a local factory and was then diagnosed with thyroid cancer. Later, her oldest daughter of three entered the justice system for her own actions. This was the beginning of the wakeup call for Brittanie. "I had a hurtful, yet empowering discussion with a social worker. I thought that we were going to discuss my daughter's situation, but instead he wanted to discuss my history," Brittanie recalls.
Brittanie started to take steps to change her life. She removed herself from people who could negatively influence her and focused on her daughter. In 2019 she re-enrolled at Hopkinsville Community College and started to research criminal record expungement. She discovered that Goodwill Industries of Kentucky assists people with the expungement process by hosting classes and providing access to legal aid. Once Brittanie went through the process herself, she started to help others navigate expungement. With Goodwill's support, she went out on her own to assist others with the process. She helped over 100 people in 2022 and currently has more than 30 people on a waiting list. "This work is going to be part of my future," explained Brittanie. "HCC President Dr. Allissa Young has cleared a path for me, and I want to clear a path for others and pass it on," she continued.
Brittanie is a campus leader and active as a Student Regent on the Kentucky Community & Technical College System (KCTCS) Board of Regents, HCC Presidential Ambassador and Vice President of The Round Table Writers' Group. She's also organized multiple donation service projects that have raised thousands of dollars in goods and benefitted both HCC students and outside organizations. "Being on the KCTCS Board of Regents has been very educational. I've been able to see their processes and network. I've even met all the college presidents from across Kentucky. It's like a family. The other members are accountable and transparent. I've been able to learn and then bring that knowledge back to my college," stated Brittanie.
Brittanie has faced numerous personal challenges and barriers. She explains that she better understands the trauma of her early life now and doesn't want others to face the same thing. "Two years ago, I was the most unprofessional person. Hopkinsville Community College has really helped. It really does take a village," she stated. "HCC History Professor Dr. John Davis would not let me give up and pushed me to keep going. He introduced me to the liberal arts/social sciences division. They believed in me. Without the HCC staff and faculty, I would not be here," she continued.
In December 2022 Brittanie graduated with an associate in arts degree and then completed an associate in science degree in May 2023. She's been accepted to several 4-year universities with plans to continue her education by studying human services and non-profit management. Brittanie is the first in her family to obtain a college degree and her daughter is the first to complete a high school diploma. Brittanie's goals and achievements have changed the trajectory of her family. "My oldest daughter has grown up with me, my middle daughter wants to go off to college and live in a dorm and my youngest has her life planned out," Brittanie said proudly.